Energy Casino Welcome Bonus
Energy Casino Welcome Bonus
The welcome bonus from Energy Casino (registration) includes only a cashback for the first deposit. The club returns 100% of the deposit, but not more than ₽10,000/€200. Moreover, the minimum deposit is 10 euros (or 200 rubles).
How to get the bonuses
There is no need to activate the bonus – it is sufficient just not to check the «I do not want to receive bonuses» box during registration. In this case, after you deposit the stated minimum amount, the cashback will be credited to the bonus account. And all changes can be tracked in your personal account.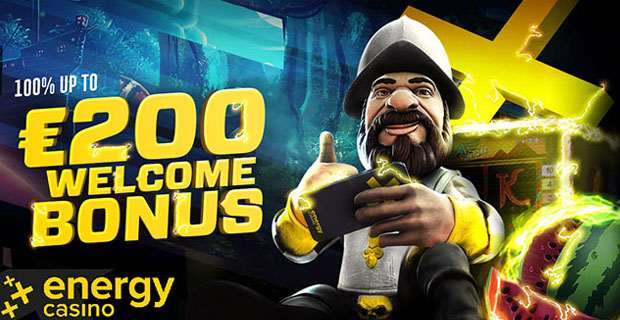 Terms and limitations
There are many requirements, non-observance of which entails disconnection of the package and, in some cases (serious violations), the account blocking. Therefore, we recommend that you read at least the most important of them:
The welcome package cannot be combined with other promotions – you cannot activate other offers until you have fulfilled its conditions.
All the funds credited by the casino must be «spun» (wagered) 25 times. In other words, the amount available on the balance must be increased by 25 times. For example, you have deposited 10 euros and received 10 euros in the form of a cashback. Now you need to get at least €500 (10 + 10 = 20, 20 x 25 = 500), by earning the remaining €480.
At the same time, you cannot bet more than ₽300/€5 in a single shot, because you may be suspected of using a fraudulent strategy.
Energy Casino Bonus does not apply to board games, video slots and a number of classic slots (such as Tower Quest, Lucky Angel, Stardust, etc.) and is not available in certain jurisdictions: USA, Ukraine, China, Israel, Hong Kong, Spain, Turkey, Curacao, Italy, Belgium, France, Bulgaria, Iran, Estonia, Iraq, Romania, Latvia, Serbia.
And for gamblers within the territory of Croatia, Portugal and Greece, the maximum bonus is limited to 100 euros.
In addition, the club management may, at its sole discretion, reduce the bonus limit or even refuse to provide the promotion. This is done on a unilateral basis.
Disconnection of energycasino.com bonuses
To disconnect the welcome offer before using it, simply check the «I do not want to receive bonuses» box (we have mentioned this above), or go to «My Account» and select «Cancel Bonus» in the «Bonus Balance» section. If you have already connected the promotion and made the first bets using promotional funds, you will have to contact the support service. To do this, you can send a request at [email protected] or in the live chat. As a rule, requests are confirmed within the period from several minutes to an hour.
Our opinion
This is a good package with comfortable wagering conditions. We definitely recommend it to industry experts and novice gamblers. We also recommend that you read about the best casinos from the rating of our site: CasinoCom, William Hill and MalinaCasino.
Choosing A Reliable Casino
Сomments