Main kinds of online casino games
When you first get into the iGambling industry, it is hard to know where to start. The traditional search for casino reviews can give nothing or even be misleading, since forums and specialized websites often become a place for battles between competitors or a source of angry comments from inattentive/unscrupulous players who broke the rules or simply could not quit while they were ahead.

There are also positive comments from users hired by representatives of the club, creating an incorrect idea of ​​the Internet resource.
As a result, the decisive factor is often the atmosphere of the club, the convenience of its functionality and, of course, the genre variety of the collection.
But in order to evaluate the latter, you need to have at least a general idea on which kinds of games exist in the gambling industry.
In this review, we will try to sort it all out and provide you with a comprehensive picture of what is happening.
So, casino games can be divided into several main categories (please note that this classification is not included in official sources and is for informational purposes only):
Slots or slot machines.
Card and board games.
Jackpot games.
Lotteries.
Arcades and quests.
Let's consider each of them separately.
Slots
Slots were the first to be transferred from land-based casinos to the Web. They consist of 3-5 reels (and some providers have already developed 6-reel machines), arranged in several rows. Each of them has a cell with a symbol. The goal is to spin the reels by clicking on the appropriate button in order to collect a certain combination of symbols once they stop. You can choose a bet from the proposed range.
And if earlier the winning chain could be just a straight line, today the row is often not so important. The main thing is that "cherries" or joker are next to each other.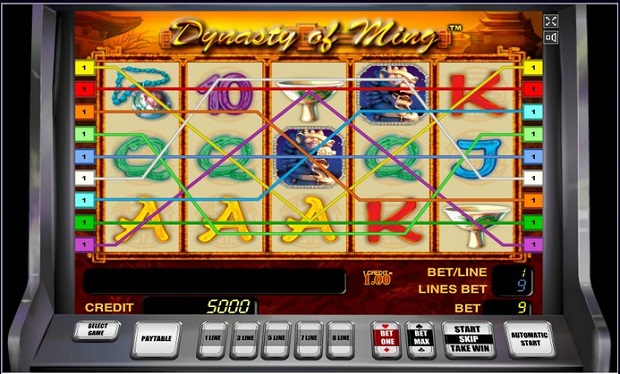 A number of combinations (they are called lines) is set individually for each slot machine. The screenshot above shows 9 lines for which you can get a reward.
In an attempt to diversify the gaming process, developers regularly update it with new options:
Scenarios and animations – you do not just spin the reels, but also watch the animated actions and immerse yourself in the story (for example, choose the side in the battle of vampires and boars or open the forbidden room).
Jokers/special symbols – by collecting their combinations, you get a reward (for example, additional spins or game currency) or open a bonus mode (super game).
Risk Game – a super game in which you can increase the current win. It is often based on a story: for example, you need to select the appropriate evidence in a detective investigation or unlock the character.
When choosing a machine, gamblers are guided by 3 things: its betting limits (beginners try to play for small amounts, more experienced users increase limits), return rate (probability of victory) and wagering requirements (how much you need to earn to be able to withdraw winnings).
Card and board games
This group includes Roulette, Poker, Blackjack, Baccarat, Keno, Bingo and Scratch Cards (where you need to erase a protective layer from the cells, which may hide a prize). We are not going to describe the rules of each game here, as several separate reviews are needed for this purpose. So, we will only indicate the basic features.
Unlike slots, winning in card games depends not only on the RNG (random number generator, which determines the combinations), but also on skills. And that is why the maximum bets here sometimes reach tens of thousands of dollars.
Another feature of this category is the presence of the "live" direction (live games). This is basically an online broadcasting of the tables with real dealers who control the process.
Jackpot games
First of all, these are the same old tournament slots. By winning, players earn points that determine their rating in the tournament bracket. Accordingly, the higher it is, the greater the prize.
The prize can be fixed (set by the operator) or progressive (it grows with the arrival of new players, whose bets form it).
In addition, the prize pool can be the same for several clubs of the group or, for example, partners (the amount of winnings in this case is greater, as well as the number of those who expect to get it), or accumulated within one club.
Arcades and quests
They are a chain of tasks to be completed in order to get rewards. Their value is proportional to the quest stage: the further you go, the more you earn.
Everything is quite prosaic. You need to perform a certain number of spins, win a specific amount or make the corresponding deposit. As for the reward, you can get free bets (free spins), money to the account or multiplication of payouts.
But it will still be a pleasant experience.
Lotteries
The most common category of lotteries is the Wheel of Fortune. In some clubs (for example, in Spin Palace Casino), it can be spun for free every 6 hours. You can get a sector that contains a bonus or an empty field.
However, there is a modified format of this kind of online casino game, where the gambler must accumulate special tickets (the conditions for obtaining are individual, but they generally depend on gaming activity) to participate in the drawing.
This entertainment is not the most popular one, but it extends the familiar and boring content.
Let's sum it up
The game collection of any online club consists primarily of slots. This is a good way to have fun, but it is not suitable for regular earnings due to its randomness. High rollers (players who invest large sums of money) prefer Roulette, Poker, Blackjack and Baccarat, where the result depends, first of all, on the strategy.
As for other game varieties, they serve as a nice change rather than a necessity.
Choosing A Reliable Casino
Сomments